While online businesses have grown in popularity in recent years, physical stores still have their place but competition is fiercer. High streets are struggling in the current economic climate so many potential customers will look up a retail park or high street online to see what businesses are open. This is where local SEO comes into its own and helps you be discovered online to drive in person sales.
If you haven't thought about local SEO before today, you've been missing a trick for your business . Here's how Local SEO can revolutionise your marketing and help grow your business.
Boosting Your Visibility with a Google Business Profile
Say hello to your new best friend – Google Business Profile! Previously known as Google My Business this nifty tool is a game-changer for local businesses of any size. When potential customers search for products or services near you, having a well-optimised Google Business Profile ensures your business appears prominently in local search results. This increased visibility puts you on the map, both figuratively and literally, making it easier for customers to find and choose you.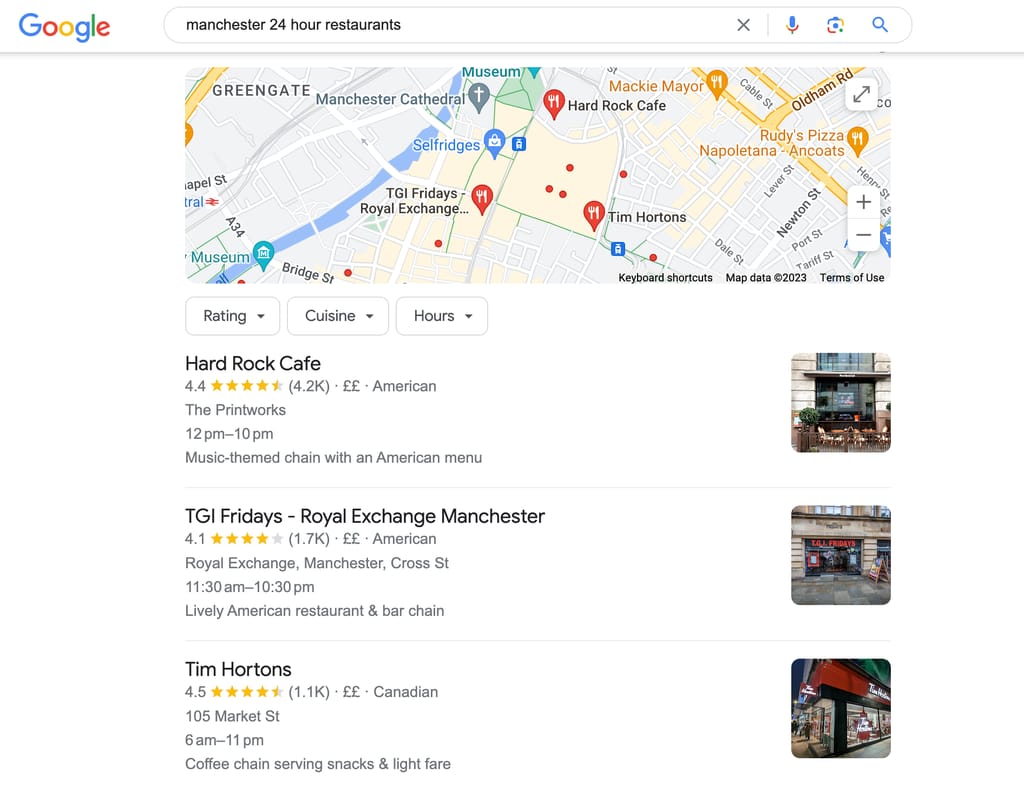 The best part about Google Business Profiles is that they are completely free. While they will try and encourage you to spend on local Ads, the benefits of a free listing that you keep up to date cannot be overstated.
Don't Forget Bing Places For Business!
While Google is undoubtedly the most popular search engine, you can't overlook Bing and its Places equivalent of Places For Business. Bing is still a popular search engine, especially among certain demographics. Neglecting to claim and optimise your business listing on Bing means missing out on potential visitors.
Showcasing Offers and Keeping Your Profiles Up-to-Date
Now that you have these profiles, it's natural to wonder what to add to them. Customers love a good deal, and with Local SEO, you can entice them with your latest offers and promotions.
Google has built in features to promote your products and offers within the platform so when your customers search for you, they can see all the reasons to come and shop with you.
Whether it's a special discount, a limited-time offer, or an upcoming event, try promoting them on your profile to see how it encourages customers to visit your physical shop.
Collect Reviews to Establish Trust
Online reviews can make or break a business, and this holds true for traditional shops as well. Encourage your satisfied customers to leave reviews on your Google and Bing profiles to help build a positive profile that shows why customers should trust and shop with you.
Reviews are so important, even the bad ones. Everyone gets them over the course of having an online profile, the trick is in how you respond to them. Never delete a bad review, always respond respectfully and calmly. It can actually be a positive thing for potential customers to see how you'll work with them to resolve any disputes or issues. Don't let the fear of negative reviews prevent you from taking advantage of these listings.
Provide Opening Times for Seamless Visits
Picture this: A potential customer is eager to visit your store, but when they arrive, they find the doors closed. Frustrating, right? Avoid such scenarios by clearly stating your opening times on your online profiles. You can even schedule specific holiday opening hours so there's no need to log in on Christmas Day and update your local listings.
It can be such a simple thing, but seeing that a business updates their hours for things like bank holidays can encourage customers to pay you a visit whereas if you have no information they might decide it's not worth taking the chance on you being open.
Help Customers Plan Their Journey
Your customers' time is valuable, so why not make their journey to your business as smooth as possible? Utilise Local SEO to provide essential information that aids customers in planning their visit. For instance, if you're located in a bustling area, provide tips on the best times to visit to avoid heavy traffic. Help them navigate public transportation options or offer suggestions for nearby landmarks, making their journey to your store a stress-free experience.
Provide details about parking facilities, nearby eateries for a quick lunch break and let customers know if you're an accessible venue.. Going the extra mile to cater to your customers needs will leave a lasting impression, help reduce their concerns about travelling to you and encourage them to make the trip. It sets any interaction you have with off to the best start!
Local SEO is a game-changer for traditional physical businesses, helping you thrive online while still maintaining a strong physical presence.
Plus, a well-optimised Google Business Profile not only boosts local visibility but also indirectly helps your overall SEO performance. It provides social signals to Google, drives traffic to your website, and showcases your expertise and authority through the reviews you collect.
From boosting visibility through Google and Bing listings to providing valuable information and offers, this powerful local SEO can transform your business.
The only downside for small businesses for these profiles is that they take time to manage, this is where we can help. We'll help ensure all your profiles are set up correctly, share updates and content to them and even help you manage both positive and negative reviews through our Small Business Support Service.
If you have any questions about local SEO and how it can help you, contact our team who will be happy to talk you through your options and put together a package that suits your needs.